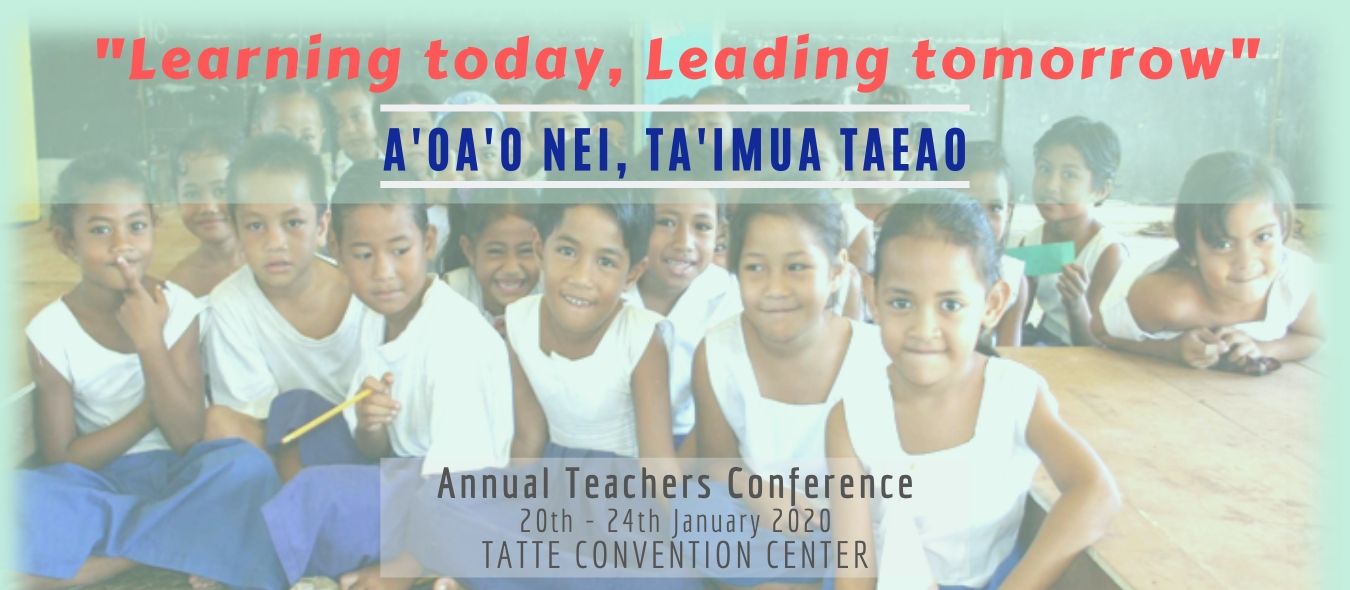 The Ministry of Education, Sports and Culture (MESC) and all its stakeholders will hold its Annual Teachers Conference next week from Monday 20 to Thursday 23 January 2020 at the Tui Atua Tupua Tamasese Efi (TATTE) Conference Centre.
The Conference will start with a Thanksgiving Service on Sunday 19 January at 5pm, in the EFKS Church at Vaimoso. The conference will open on Monday 20 January at 9 am. This will be followed by training programs held 21-23 January, for school principals, school committees & PTAs (2 representatives from each) and teachers of primary schools and colleges.
The theme of the Annual Conference and for the whole of the Academic year 2020 is
"Learning today, Leading tomorrow".
Monday's program will include presentations focusing on the achievements and challenges of the School Year 2019. It will also provide opportunities for stakeholders to discuss and share best practices that ensure what our students are learning today in the classroom will equip them to lead tomorrow. This year's guest speaker is Afioga Salausa John Ah Ching, Associate Minister of Women, Community and Social Development, with Hon. Loau Solamalemalo Keneti Sio delivering the Keynote speech to open this year's deliberations. In addition, there will be a presentation by Tagaloa Dr. Robert Thomsen of the Ministry of Health.
The CEO, Afamasaga Dr Karoline Afamasaga-Fuata'i will present the Ministry 2019 overview reflecting on the achievements and challenges; she will also present on findings from the 2019 National Assessment results for Year 8 Samoa Primary Education Certification Assessment (SPECA), Year 13 Samoa School Leaving Certificate (SSLC) and Samoa's performance regionally as part of the Pacific Islands Literacy and Numeracy Assessments results.
The last three days will focus on strengthening the knowledge, and understanding of principals, vice-principals, teachers and school committees' of their respective roles as leaders in providing transformational support to ensure quality instruction and teaching in the classroom becomes a standard norm. The sessions for principals and school committees are also held at the TATTE Conference Centre including a series of workshops for teachers and vice-principals focusing on three programmes: Intervention Support, Induction, Mentoring and First Aid Training, which will be held at Malifa.
All school personnel, school committee members and members of the public are invited and encouraged to attend the Annual Thanksgiving Service and the Annual Conference program for the four days stated in the program. Principals and teachers of Private and Mission schools are also invited to attend.