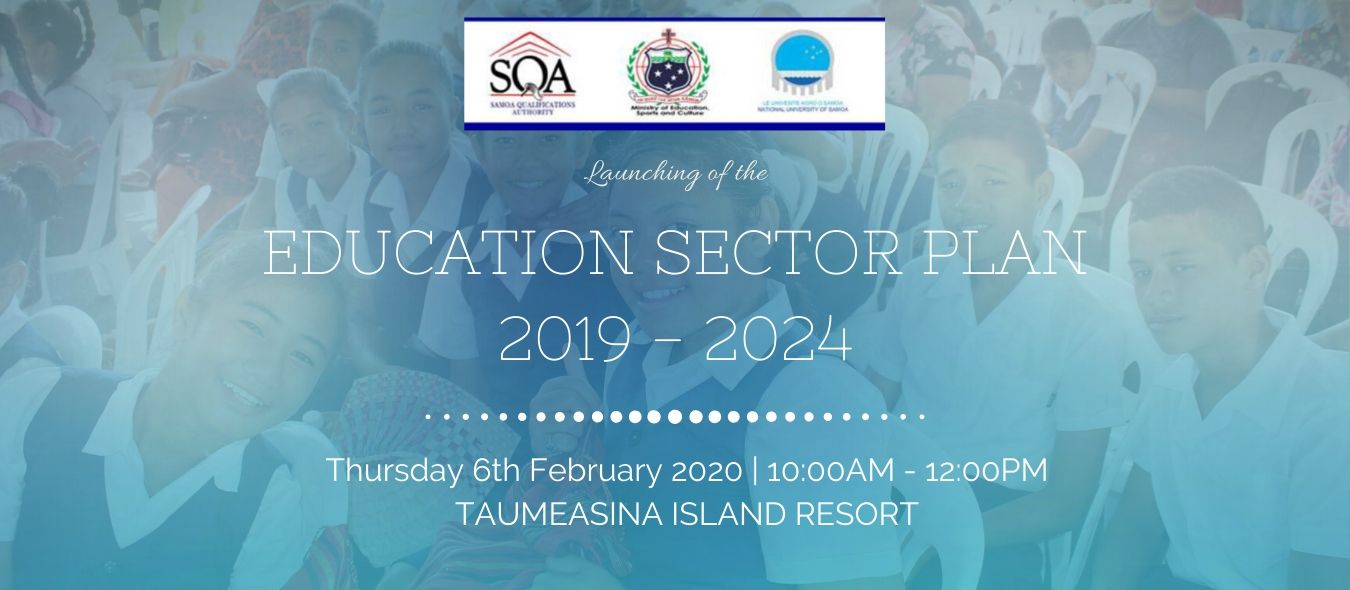 The second Education Sector Plan (ESP) 2019-24 will be officially launched by the Minister of Education, Sports and Culture Honorable Loau Solamalemalo Keneti Sio on Thursday 6 February 2020 at 10am – 12noon at the Taumeasina Island Resort, Moataa.
The ESP 2019–2024 synergises efforts by the whole Education Sector and its stakeholders to improve the quality of life of Samoans, through improving the standards of educational achievement and increasing productive engagement in the economy and the community. The Plan reflects the strategic direction of Government, regional and international policies to focus on the delivery of high-quality, accessible and relevant education for all Samoans. The rapid development of technology, and globalisation, requires Samoa's education system to be high quality, as its people mobilise for education and employment opportunities and exposure to the global market.
The new Plan follows the first ESP (2013–2018) and combines the plans of three implementing agencies (IAs): Ministry of Education, Sports and Culture, National University of Samoa and Samoa Qualifications Authority. The vision and mission statements are:
Vision: All people in Samoa are educated and productively engaged
Mission: To deliver and promote high quality education and training to meet the national, economic, social and cultural goals of Samoa
The new Plan reflects the views of the Education Sector's stakeholders and builds on the first Sector Plan achievements, while addressing its shortcomings and applying lessons learned from it. To make sure the ESP stays on schedule, responds to what Samoa needs and changes course when necessary, it will be reviewed at three points: annual, mid-point and final.
The goals and expected outcomes are in the table below:
| | | |
| --- | --- | --- |
| # | Sector Goals | Expected Outcomes |
| 1 | Enhance the quality of education and training for all learners | Improved learning outcomes at all levels |
| 2 | Provide everyone with access to good quality education and training opportunities | Increased rates of participation and completion at all levels |
| 3 | Make education and training more relevant to national needs and the labour market | Increased rates of employment for graduates |
| 4 | Improve the effectiveness of sector planning, monitoring and reporting | More decision making is informed by data analysis, research, policy and reviews |
| 5 | Develop ways to manage the education sector's resources sustainably | All education sector coordination responsibilities managed efficiently |
The new Sector Plan has five priorities:
Inclusive education (IE)
Childhood Education (ECE )
Technical and vocational education and training (TVET)
Information and communication technology (ICT)
Capacity development (CD) of staff
Afioga Afamasaga Dr Karoline Afamasaga-Fuata'i Chief Executive Officer, the Ministry of Education, Sports & Culture will present a summary of the Education Sector Plan 2019-2024 at the launch. Electronic copies of the ESP 2019-24 will be available on the MESC website www.mesc.gov.ws (after the launch).
This significant event will be attended by key stakeholders: representatives from Government Ministries and Organizations, Private Sector, Non-Government Organizations, Development Partners, ECE centres, schools and PSET providers.