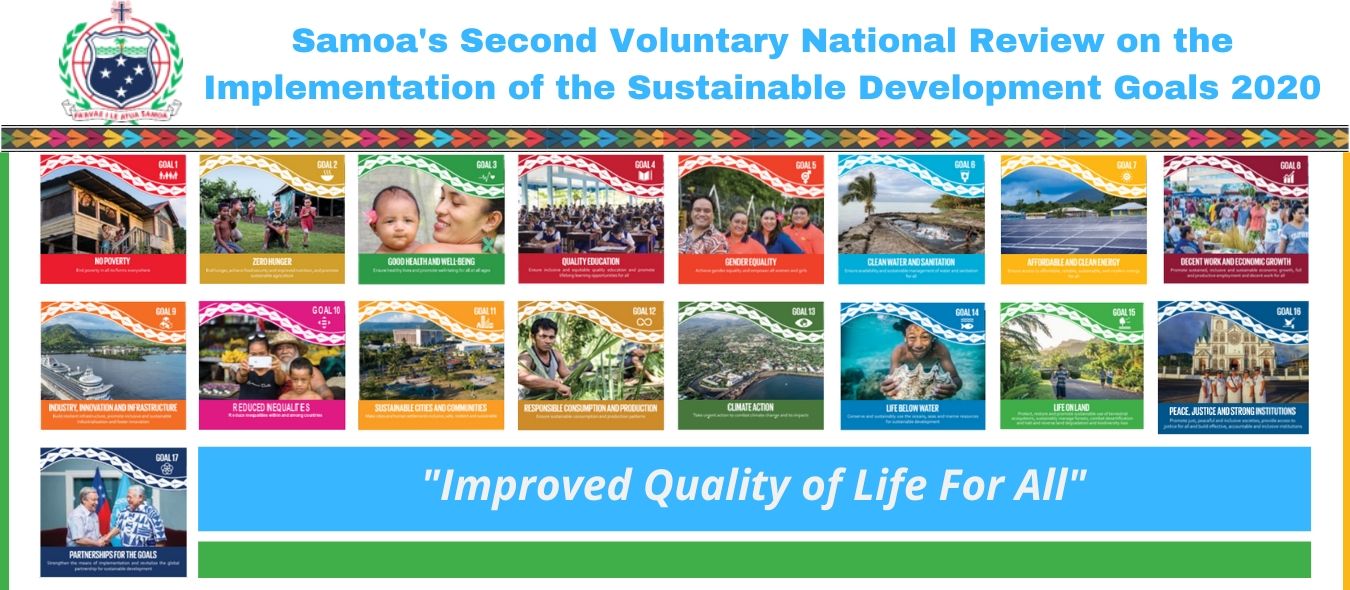 This article was originally posted on the Government of Samoa Facebook page on July 13
JOINT PRESS RELEASE; Samoa achieving sustainable development targets but challenges remain says Govt. report to UN
APIA, SAMOA 11th JULY 2020; – Global shocks, natural disasters and health crises are disrupting national development, affecting economic growth, and undoing hard fought development gains, says a new government report to the United Nations.
Samoa is either on track or has achieved 47 percent of the selected global and national indicators used to measure its progress on implementing the Sustainable Development Goals (SDGs) and the 2030 Agenda for Sustainable Development, adopted by all UN member states in 2015. This is according to the Second Voluntary National Review Report on the Implementation of the SDGs, which was presented by Deputy Prime Minister, Hon Fiame Naomi Mata'afa this morning to the UN High-level Political Forum for Sustainable Development, based in New York.
"Renewed commitment in 2015 to an ambitious global agenda that is aligned to our Strategy for Development has helped us respond better to growing economic, social and environmental challenges," said the Deputy Prime Minister.
"The review highlights multiple achievements for Samoa despite the challenges of being a small island developing state. For example – education is compulsory and fee-free for public schools and there is universal access to primary education. There is almost universal access to clean water, sanitation, roads and electricity and less mothers are dying at childbirth. More women than men are in senior management in the public sector, more children with disabilities enrolled in schools and enhanced resilience to disasters and climate change is fully integrated across all sectors and at the community level. There is increased domestic financing and stable ODA and FDI levels."
However, while there is progress, the report also highlights that not all are benefitting equally and many challenges remain. For example, literacy and numeracy at all educational levels are declining, premature deaths from NCDs are rising, income inequality is significant and the loss of biodiversity is worsening.
There are also high levels of violence against women and children and an increase in Samoans under hardship conditions. The Deputy Prime Minister also warned that Samoa faces a rocky road in the short to medium term, with many challenges to achieving sustainable development highlighted in the report – including COVID-19, which have weakened the economy with resultant rising unemployment and income inequality.
"Samoa's efforts to ensure everyone enjoys prosperous and fulfilling lives and that economic, social, and technological progress occurs in harmony with nature have been positive. Samoa has put a lot of effort into building financial and environmental resilience, strengthening social protection and helping vulnerable groups to address inequality, unemployment and poverty," said Simona Marinescu, UN Resident Coordinator for Samoa the Cook Islands, Niue, and Tokelau.
"However, this review reveals that progress remains fragile and that continued development cooperation with traditional and new partners is critical to Samoa's sustainable future. The VNR will be a valuable tool in helping us to identify areas in which the United Nations could be most relevant to help accelerate the implementation of the 2030 Agenda.
"Noting the crucial role of national partnerships in delivering positive development outcomes, representatives of civil society and the private sector were part of Samoa's national presentation and report.
The Manager of Nuanua o le Alofa (NOLA) Ms. Mataafa Faatino Utumapu, touched on some of the positive progress and also called for more effective inclusion of the needs of persons with disabilities in national implementation and monitoring. The President of the Samoa Chamber of Commerce Incorporated Ms Jenny Ula- Fruean highlighted the impacts of the COVID 19 on the private sector during the presentation.
The voluntary national reviews are a central component of the follow-up and review of the 2030 Agenda, and are undertaken by national governments to track progress in implementing the Agenda and the SDGs. This is the second such review presented by Samoa to the High Level Political Forum, which is convened annually under the auspices of the UN Economic and Social Council. 46 countries are presenting their reviews with Samoa this year.
Read the full report here https://rebrand.ly/OfficialSamoa2ndVNR2020
View the Presentation here https://rebrand.ly/Samoa2ndVNR2020_Video