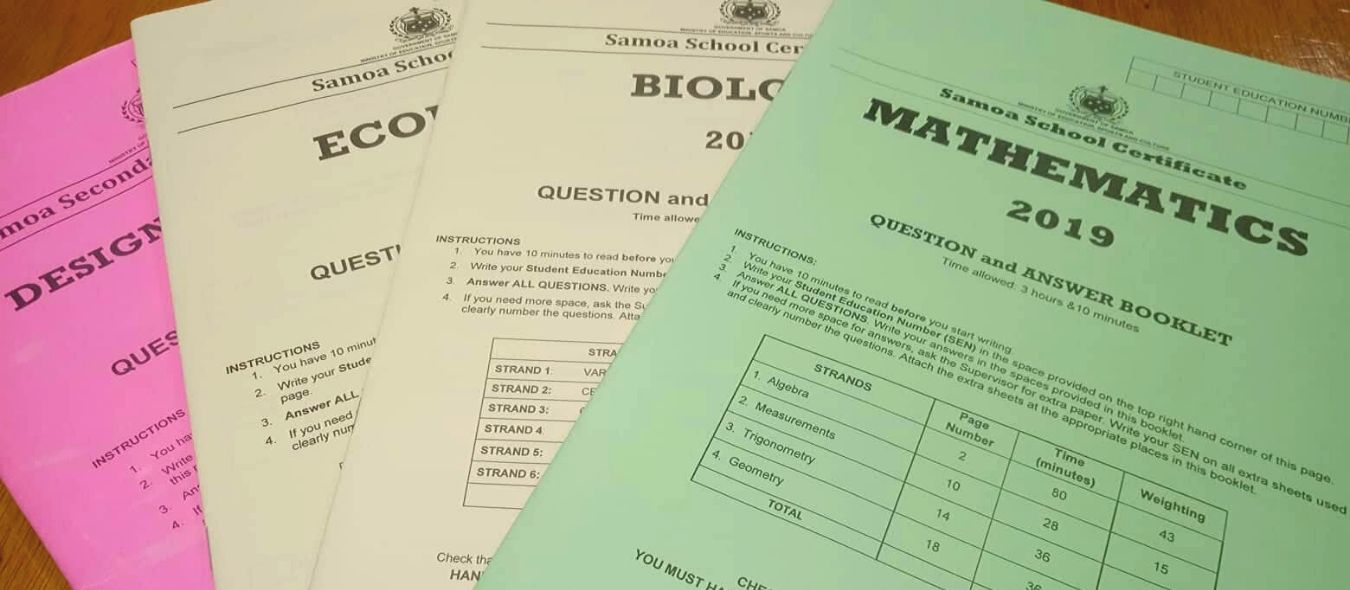 2019 was an eventful year for Samoa incorporating both highs and lows with the triumphant XVI Pacific Games (PG) held in July, to the heart breaking measles epidemic …
These two events directly impacted national examinations with many student athletes opting to take up the 3-6 month training in China, more than 2000 students involved in the PG Opening and Closing Ceremonies, to Samoa's State of Emergency which delayed the second (and final) week of exams by 30 days and saw some students leave for overseas holidays, unable to change flights or shift family faalavelave. When the SOE was lifted 15 December, 2019, due to the importance of getting SSLC examinations sat and results out to NUS/PSET providers in a timely manner, the last week of examinations for SSC was cancelled – this meant 8 out of 17 SSC subjects were not able to be examined.
Given all the challenges in 2019 …
In comparison to 2018, there was an increase of 73 students, where a total of 1,825 students sat the SSLC. Given the unsettledness experienced by everyone as a result of 'not knowing' what/whether/when the National Examinations was to be held, the final turnout of SSLC students to sit their exams was praiseworthy ; this is a credit to everyone – students, parents, teachers, principals, health officials, ministries and the public.
The Provisional results for the Year 13 Samoa Secondary School Leaving Certificate (SSLC) National Examinations …
Was endorsed by the Minister of Education on 15 January, 2020.
Background information …
Trends of Students Qualifying for NUS & TVET Post-Secondary Education
The NUS require students meet a minimum of 200 (English plus best 3 subjects) for the Foundation programmes or a minimum of 120 for TVET/Certificate programmes.
Foundation Programme …
These students have chosen to pursue an academic pathway. In 2019 there is a slight drop to 55% in comparison to 2018 with 58%, however given all the dramas in 2019, this decrease can be expected. Furthermore the MESC recognised the importance for students to be creative, critical and analytical thinkers and in 2017, the National Examinations were reviewed to ensure that this was being addressed. As a direct result, the weighting of low level test items (or questions), to high level test items was changed from 50:50 to 40:60 respectively.
Over the past 3 years, more than 50% of SSLC students have qualified to enrol in the different Foundation programmes.
The MESC continues to work with Examiners and Moderators to improve the quality of exam papers although, it is planned that a course on writing and moderating exam papers, will soon be offered by NUS through Oloamanu. This will help increase the number of Certified Examiners and Moderators for SSC and SSLC.
Technical and Vocational Education and Training (TVET) …
This group of students are those whose SSLC results (i.e. min. 120 in English and best 3 subjects) enable them to pursue TVET pathways. From 2017-2019, student numbers that can access only TVET programmes remain around 35%.
END