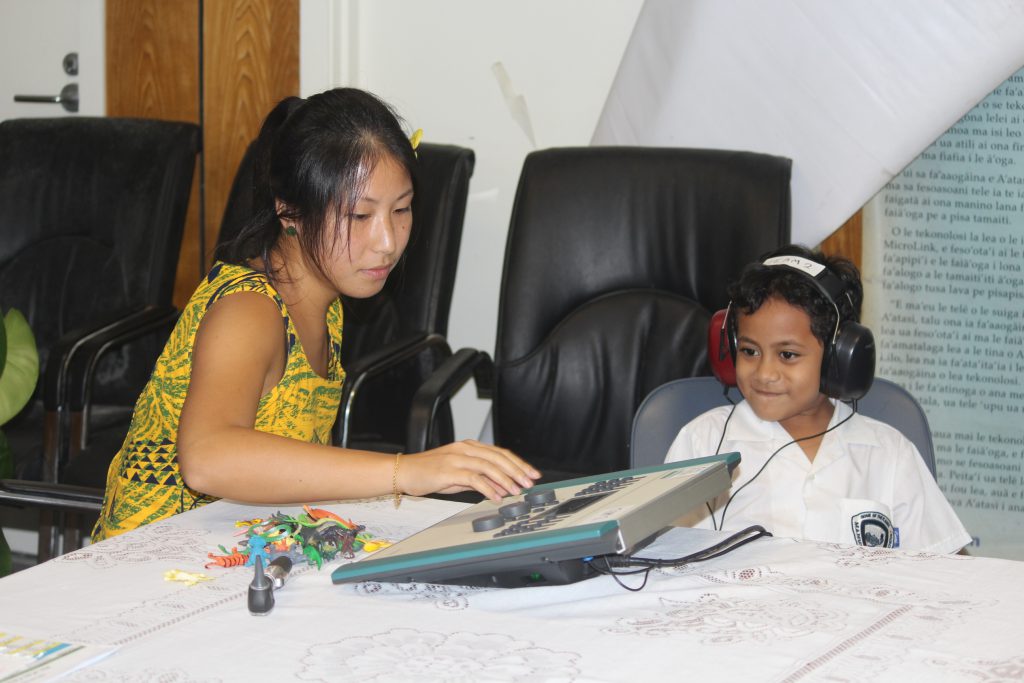 The Ministry of Education, Sports and Culture and SENESE Inclusive Education Support Services successfully completed the first National Hearing Screening for Year 1 students in Samoa on 16th May 2019. The program started on 29th April for Upolu before it moved to Savaii.
The aim of the program was to improve early diagnosis of hearing loss and access to treatment, as well as educate families and teachers about ear health. It was an opportune time to raise awareness across Samoa of correct ear care and to lessen health issues that may arise through lack of education. Good hearing supports participation and good learning in school.
A team of 25 staff including hearing specialists and support staff from MESC and SENESE rolled out the program to cover the whole of Samoa over a 3 week period. A total of 3,973 out of approximately 5,000 plus year 1 students were assessed. The results showed a number of issues which are easy to remedy if parents, caregivers, principals and teachers are fully aware of what they need to do.
From the total number of students who were assessed, 672 students (17%) were referred to the Ear, Nose and Throat (ENT) Specialist at Motootua Hospital for treatment. Another 195 students (5%) required further more detailed testing by SENESE and the majority or rest of the students (78%) had too much wax in their ears. Parents, caretakers and teachers were advised of remedies to ensure that children's ears are well cared for and any problems are mitigated.
For Year 1 students who did/could not attend the Screening Program, parents are encouraged to contact SENESE directly for an appointment if they have any concerns. SENESE's contact details are 27532 or 27531. For MESC, families can contact Jennifer Seipua Pemila and Tuaia Foliga on 64601 or 64605.
The Ministry of Education, Sports and Culture and SENESE would like to sincerely thank the Church of Jesus Christ of Latter Day Saints for the use of their chapels to conduct the screening. Thank you very much for your generosity. As well, the sponsorship from the following companies is acknowledged with deep appreciation.
Bluesky Samoa Company for the Team's uniform
Samoa Stationery and Books (SSAB), Farmer Joe and Ah Liki Wholesale for the fruits
Samoa National Bank for the bottled water for children.
Finally, the support by parents, principals and teachers of all Year 1 students screened this year is highly commended. Through the partnership MESC has with SENESE, special schools and other service providers for Inclusive Education, this program will continue to ensure improved hearing for the young generation and ultimately improved learning in schools for a better future.