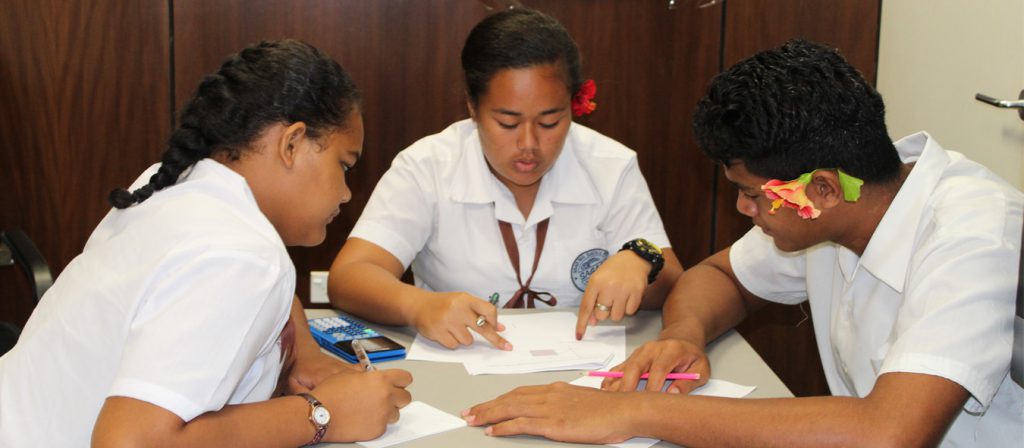 The Ministry of Education, Sports and Culture premises at Malifa will be vibrant and colourful next week when student representatives from all the districts in Samoa join the Samoa Schools Innovation for Literacy, Numeracy and Science (SSILNaS) program, from Monday 9th to Thursday 12th September, 2019. The theme for this year's SSILNaS is LIFE – students will compete in a variety of activities with this theme in mind and depicted through the work they will do next week
The SSILNaS initiative aims to:
• Increase awareness and targeted efforts in Samoa for Literacy, Numeracy and Science in real life situations;
• Provide a platform to highlight and showcase student-centred projects in literacy, numeracy and science;
• Raise awareness of key National and International issues;
• Bring students, teachers, principals and parents together to work towards a collective goal;
• Provide an opportunity for students to express their views on chosen topics, showcase their talents and learn different skills;
Education is so important to support lifelong learning and successful participation in Samoa's future. Life is precious and through the lens of Literacy, Numeracy and Science, students will be expressing their aspirations, views and ideas on this theme and how it applies to their learning as well as their daily lives. The program encourages students and schools to use their creativity in each of the categories to bring out the theme of LIFE. MESC is also encouraging students to reflect on the current issues in our country in relation to their daily lives.
The National competition will start on Monday 09th September at 7 am with a march parade from the car park behind the Ministry of Police Office to the MESC Headquarters at Malifa. This will be followed by an opening ceremony followed by activities that will go up to Thursday 12th September 2019. All the activities will be held in various venues at MESC, Malifa. Please come and support the students in the great variety of activities on offer.
Women in leadership, financial education, gender, climate change, environmental changes, health, fitness and sports, youth empowerment are some of the topics that will be covered in the activities students will participate in.
The four day program will have a range of activities including the following:
• Debates & Impromptu Speeches
• Science projects
• Music and Drama
• Mental Strategies for Maths
• Problem Solving
• Financial Literacy – coordinated and hosted by staff of the ANZ Bank
MESC acknowledges with deep appreciation the kind support of the following sponsors. Faafetai tele le agalelei.
Main sponsors: ​​Bank of the South Pacific
Associate Sponsors: ​Samoa Stationery and Books (Literacy)
​​​​Women in Leadership Samoa (Literacy)
Samoa Broadcasting Corporation, TV 1
Business Systems and Ltd (Numeracy and Science)
United Nations Population Fund (UNFPA)
Ah Liki Company
Other sponsors:​​Peace Corps
​​​​Office of the Regulator
​​​​Samoa Shipping Company Ltd
​​​​ANZ Bank
​​​​Central Bank
​​​​Lyn Netzler's Supermarket
​​​​MNRE